Ian Vickers wins 2013 USA IOM Nationals 🙂 🙂 🙂

Jeff Byerly Fourth 🙂 🙂 🙂

Well Done Guys

Click on play icon below for Down Under Soundtrack
For Complete Finial Results Click here

---

More photo here from Thor – USA 137 – TS2
---

Ellen Hoke photos of day Four here

Ellen Hoke photos of day three here

Ellen Hoke photos of day two here

Ellen Hoke photos of day one here
---
http://www.pressure-drop.us
---

http://www.iomusa.org/
---
Day One my best guess is Ian and Jeff won each of there seeding races.
Then Race two, Brad Gibson USA70 1st Britpop England, Jeff Byerly USA71 2nd Cheinz Aussie, Ian Vickers USA171 3rd V8 New Zealand
Great start to both our guys 🙂 Keep it up !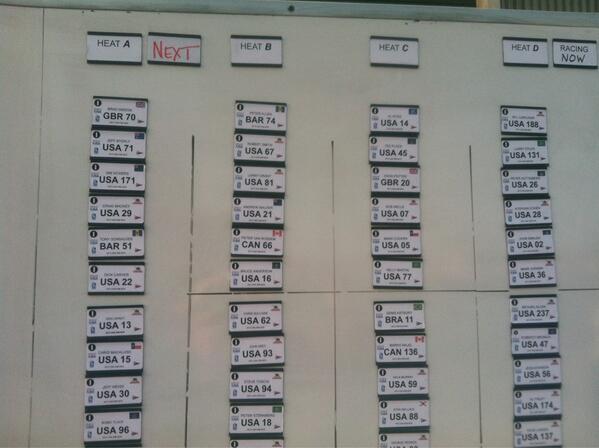 ---
above picture
(http://www.rcgroups.com/forums/showthread.php?t=1155891&page=266)
the picture above is taken looking to the west or toward land. pier 80 is to the right or north. the sf bay is behind you. the pier is very long and you can see about 1/3 or less. even numbered pier are south of the bay bridge making pier 80 a long from the central bay.
oracle's facility is on the pier and huge. i've sailed there twice. oracle racing is very generous with their property and personnel. they have provided food and drink also. a number of them sail ioms.
i understand a tour of the warehouse along with the 72 is planned. in the past they didn't allow photos.
Ron Locke
---
Good luck to Ian Vickers representing NZ & Jeff Byerly representing Aussie
Give em heaps guys
https://sites.google.com/site/iomusevents2013/regattas/usanationals